Malak Galal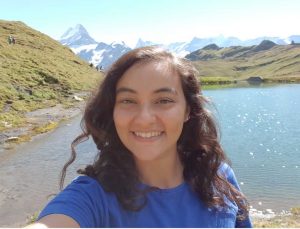 I am a PhD student in the Group for Fibre Optics (GFO) at EPFL in Switzerland. I graduated from the German University in Cairo with a bachelor's degree in Electronics Engineering. During my studies, I took several courses in Optics and Photonics which made me highly interested in these fields. My research project in the FINESSE network is focused on establishing a distributed optical fiber sensing system based on continuous faint long gratings (FLOGs) inscribed into the fiber aiming to sense parameters such as temperature and strain. I am very enthusiastic about my project and about collaborating with my fellow ESRs from whom I will certainly learn a lot and with whom I will share my thoughts and knowledge. Alongside my work, I am looking forward to exploring Switzerland and enjoying the beauty of its lakes and mountains.
email: malak.galal@epfl.ch
Li Zhang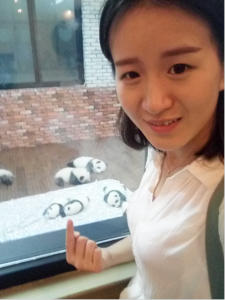 I am currently a PhD student at EPFL. Before arriving in Switzerland, I completed a Master's degree in Optical Engineering at the University of Electronic Science and Technology of China in Chengdu, China. Within the FINESSE network, my project aims at developing novel distributed optical fibre sensors (DOFS) for temperature and pressure monitoring with high spatial resolution. I'm also looking forward to developing new applications using DOFS. Being able to work together with the other FINESSE fellows and learn different aspects of DOFS such as manufacturing new fibers is the coolest part in this project for me. I like playing guitar during leisure time, besides, landscapes here are amazing so I always find it pleasant jogging around Lac Léman and hiking in the mountains during weekends.
email: li.zhang@epfl.ch
Hari Bhatta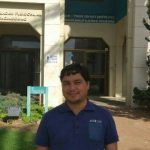 I am a PhD student at Tel Aviv University, Israel under the supervision of Professor Moshe Tur. My educational background includes MSc in Lasers and Photonics (Ruhr University Bochum, Germany) and BE in Electronics and Communication Engineering (Kantipur Engineering College, Tribhuvan University, Nepal). My research work involves fast and distributed Brillouin fiber optic sensors which can be used in monitoring of dynamic changes in the temperature or strain appeared over the manmade or natural structures. For. e.g. monitoring temperature changes of the railway tracks on hot weather conditions can provide significant information to prevent possible near future problems. I am highly optimistic to enhance my knowledge and skills within FINESSE network; training events and secondments would be helpful pillars of my work. On the leisure time, I enjoy beautiful Tel Aviv city and sea beaches.
email: haridattab@mail.tau.ac.il
Regina Magalhaes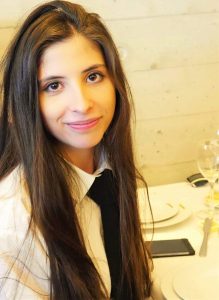 I am currently a PhD student at Universidad de Alcalá, in Madrid. Before arriving to Spain, I completed a Master's degree in Physics Engineering at the University of Porto, in Portugal. After that, I also was a Researcher at INESC-TEC in Porto, working in the field of the optical fiber sensors. Within the FINESSE network, my project aims at developing new distributed gas sensing methods employing various types of suspended-core fibers and phase-OTDR interrogation techniques. This is an incredible opportunity not only to travel a lot, but also to acquire knowledge and expertise through the most diverse collaborations. I have an enormous desire to work with the other FINESSE fellows, hoping to learn a lot from them. In my spare time I like to play board games with my friends, go to concerts, play saxophone and to travel in search of new amazing places. Bearing this in mind, Spain is a wonderful country to explore, with amazing weather, a lot of culture and awesome places to visit.
email: regina.teixeira@uah.es
Luis Costa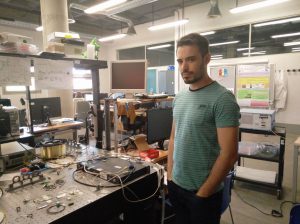 I'm engaged in a PhD programme at the Universidad de Alcalá, studying the processing of signals obtained through phi-OTDR, in order to achieve accurate and more reliable information from this distributed sensor technique. Before engaging with FINESSE, I studied Physics Engineering at FCUP, focusing heavily on applied photonics, and optical sensors, and worked in R&D of optical technologies in two companies. FINESSE allows me to travel the world and learn a lot in cutting edge photonic topics, meet talented individuals all around the world, and work with world class institutes. It goes without saying that it will be an amazing and exciting experience. Hoping to meet all of the other FINESSE fellows for some tapas in Alcalá!
email: luis.duarte@uah.es
Sergei Mikhailov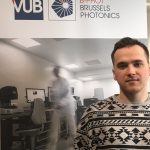 I am a PhD student at Vrije Universiteit Brussel (VUB). Before arriving in Belgium, I completed a Master's degree in Technical Physics at Peter the Great St.Petersburg Polytechnic University in Russia. My work within the FINESSE network is dedicated to the creation of photonic crystal fiber (PCF) with enhanced pressure sensitivity, which will be used in pressure sensing systems (e.g. oil- and gas industry). FINESSE network provides a great opportunity for meeting new colleagues and collaborating with different institutions. In my free time, I'm most likely chilling and testing some Belgian beers, in the name of science of course!
email: smikhail@b-phot.org
Angeliki Zafeiropoulou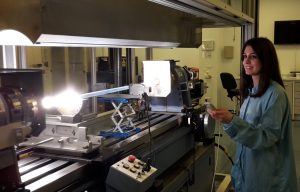 I am currently part of the Fibercore Ltd team, while being a PhD student at the University of Southampton. Before arriving in the UK, I completed a Master's degree in Materials Physics at the National and Kapodistrian University of Athens, Greece. Within the FINESSE network my project aims at the design, optimization and fabrication of special multi-core fibres for distributed sensing applications. What I really like about FINESSE is the various secondments that will help me to get a taste of the working culture in different countries and boost my future job opportunities. When I am not in the lab, I like dancing as well as walking in the parks of Southampton. I also plan to travel all around England during these three years!
email: angeliki.zafeiropoulou@fibercore.com
Joao Manoel Barbosa Pereira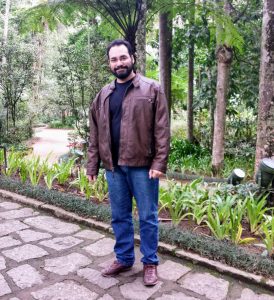 I began my PhD in March 2017 at RISE Acreo in Stockholm and I'm enjoying my new city. I completed my Masters physics degree at CBPF (Brazilian Center for Physics Research) in Brazil and my last job was in PUC-Rio as a technician. My study project in FINESSE is to develop an electric field fiber sensor to monitor high voltage. I would like to meet the other FINESSE ESR to learn about their projects. I like electronics, computers and Sci-fi movies.
email: joao.pereira@ri.se
Ravil Idrisov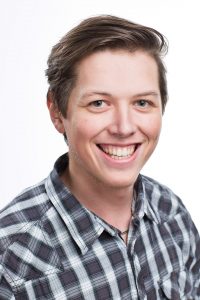 I am a PhD student at Leibniz-IPHT. For last 3 years I worked at Light-Guided Photonics laboratory at the ITMO University in Saint-Petersburg, Russia as an engineer. Together with my colleagues, I have designed and built a setup for fiber Bragg gratings (FBG) writing, based on excimer laser system. I described this setup in my Master's thesis. FINESSE network gave me an opportunity to work with the most famous research group in the field of fiber gratings. My project dedicated to distributed shape sensing using multicore optical fiber with inscribed Bragg gratings. Jena is small, quiet and beautiful town rounded by green hills. I really enjoy it.
email: ravil.idrisov@ipht-jena.de
Beatriz Silveira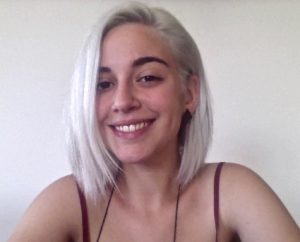 I am a PhD in Leibniz-IPHT in the Holographic Endoscopy group. I come from Portugal and I graduated in Physical Engineering from the University of Porto. During my studies, I enrolled in programes in INESC-TEC, which inspired me to pursue a career in Optics. After my Master's, I took part in a project where I developed optical fibre sensors for Health Monitoring. Holographic endoscopy now allows to convert a single multimode fibre into a minimally-invasive imaging element. However, bending of the probe can severely degrade the imaging quality. Within the FINESSE network, I aim to combine holographic endoscopy with the concept of distributed sensing to provide feedback for active compensation of distortion caused by bending and allow fully flexible operation. FINESSE is giving me the opportunity to connect with young researchers from various European institutions, and to grow at an academic and personal level. I hope to share a lot of ideas and good times with my fellow FINESSE colleagues. In my spare time I enjoy traveling, hiking, mountain biking, bouldering, and architecture and design.
email: beatriz.silveira@leibniz-ipht.de
Demetrio Sartiano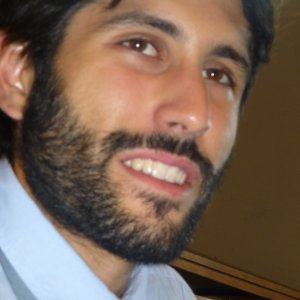 My name is Demetrio Sartiano, I am a PhD student at Polytechnic University of Valencia. I carried out my graduate studies in Biomedical Engineering (BSc) at Polytechnic University of Milan, Italy, and I concluded my post graduate studies in Electronic Engineering (MSc). For the FINESSE project I am going to implement wearable distributed fiber based sensor, for application where the existing electronic sensors cannot be used. I got in touch with photonic and light technology, working on my master thesis, and I realized that this research area excites me. This position in the FINESSE network is an excellent way to further develop my knowledge and skills, and it is going to be an excellent starting point for me as a researcher. I am sure that I will enjoy my staying in Valencia, and when I am not in the laboratory I enjoy the beaches and the Mediterranean Sea.
email: desar@teleco.upv.es
Arianna Piccolo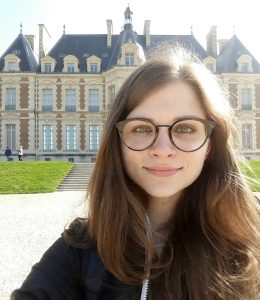 I am a Ph.D. student at the University of Nantes, doing research mainly in ANDRA, both in France. I have always been a curious person, so I started studying all around Europe: I have graduated in Telecommunication Engineering at the University of Padova, in Italy, doing my master thesis in Spain, at the University of Cantabria, within the Photonic Engineering Group. Within the FINESSE project I will aim to develop an optical fiber sensor, capable to help protecting the people and environment against radioactive waste pollution. I am really looking forward to share with other people knowledge and motivating experiences, working together to reach a common goal. If I am not studying, I like to enjoy nature, music and visit new places. I am already enjoying the green parks I find around my new home, so I cannot wait to see more!
email: arianna.piccolo@andra.fr
Ignazio Floris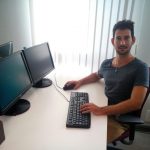 I am a PhD student in Civil Engineering at Polytechnic University of Valencia (UPVLC). I came across UPVLC and the Valencia community through ERASMUS Traineeship Program and I have been fascinated ever since, by its friendly people, beautiful beaches, sunny weather, and tasty food. My objective, within the FINESSE project, is to develop a Shape Sensor with Multicore Optical Fiber to monitor soil displacement. Being part of FINESSE network, I have the opportunity to broaden my knowledge and improve my research skills through training events and secondments. In my spare time I like hiking, dancing and visiting new places.
email: igflo@upvnet.upv.es / igflo@upv.es
Jason, Qianchen Sun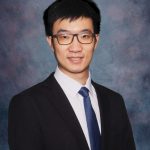 I am a PhD student at the University of Cambridge. I completed my Bachelor's degree in civil engineering at the Hong Kong Polytechnic University. Within the FINESSE networking, my project aims at developing an anomaly-detection system based on detailed heat transfer as well as strain development and distribution within cast in-situ structures (diaphragm walls/piles) during the concrete hydration process using fibre optic sensors. I am highly enthusiastic to meet talented individuals, collaborate with other ESR fellows, and enhance my knowledge within FINESSE network. Training events and secondments will also be an exciting chance to visit different countries and experience local cultures. Apart from above, I prefer to visit underwater world as a scuba diver during vacations.
email: qs217@cam.ac.uk
Marie Gruber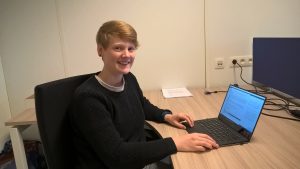 I am currently a PhD student at FINESSE. Before arriving in Belgium (Brussels), I completed a Master's degree in Information Systems at the Niederrhein University Applied Science in Germany. Within the FINESSE network, my project aims the Technology Transfer and Academic Entrepreneurship in Distributed Optical Fiber Systems. I am looking forward to working together with the other FINESSE fellows during my secondment and developing my academic and scientific career. When not working in my office, I love discovering new places and spending time with family and friends! Brussels so far offered me a lot of cultural events and great diversity with extremely welcoming people!
email: marie.gruber@vub.be